Delivering quality buildings to Texans for over 35 years.
3 Year Unlimited Warranty
Free Delivery (up to 50 miles from Austin)
Built-to-last from quality materials
Buy factory direct for higher quality, better choices and lower prices! Affordable Portable Structures has been manufacturing and delivering the highest quality specialty buildings in Central Texas for over thirty years. All of our buildings begin with heavy-weight flooring timbers made with pressure-treated wood, and our installation teams will always level the flooring skids to make sure your new building stands level and true.
Storage Sheds and Portable Buildings
Affordable Portable offers over 100 different sizes of custom-made buildings. Each structure is designed to meet your specific needs: garden shed, tool shed, office, workshop, garage, pool house, storage, and more.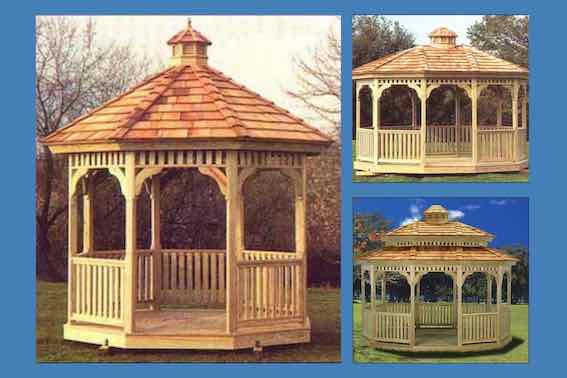 Gazebos
It's all here with our unique Gazebo Collection. Choose from six distinctive designs—all constructed by Amish craftsmen. The quality and workmanship are unmatched, and the price is affordable.
I had one of your 12 x 20 buildings constructed last week and am very happy with it. Construction was done in one day by a very competent and professional crew. The building exceeds my expectations and the two workmen were excellent craftsmen and very nice. Please feel free to include me as a satisfied customer and I would not hesitate to recommend your buildings and more important your employees.
Well, I got my building Friday afternoon and Andrew did a tip top job. It was hard for me to decide which of two locations I had decided on and he came out with a third choice which I really do like. He was very patient when my extremely annoying and very nosy next door neighbor came by yelling that the building was partially occupying her property (which I really don't think it was and Andrew moved it about 4 more feet for me even after he had already leveled it. He really did a great job.
All I wanted to say is Andrew was very professional and he did a great job and he should be commended. I am very glad I went with Affordable Portable Structures and NOT Morgan like I almost did. You have a superior product if you ask me since you use 16 inch centers. They use 24 inch centers. I love my new building. You have a great product. Tell Max thanks again for being there to assist me and both Max and Andrew hello for me
I wanted to let you know that I am very pleased with the two buildings I purchased from you and, indeed, with the service you provided from the very 'beginning. You offered some very helpful suggestions at our first meeting, Jerry, and Aubrey. you were always responsive and informative as we pursued various alternatives over the course of the past few weeks. Of course, your buildings are excellent and will serve my purposes extremely well, but I'll confess that I might have been less committed to purchasing them from you had it not been for your thoughtful and constructive, help.
Not least I want to commend your team of workers. They arrived early this morning, so immediately to work and, except for a short (and well-deserved) lunch break, worked steadily until both buildings were completed. I told a neighbor who had kept up with my building "saga" over the past few months that they were up in one day, and her response was simply "Wow!." Like any homeowner I spent some of this evening looking over the buildings and find the workmanship to be excellent.
I have already given one of your brochures to a friend who was interested in what I have been planning, and I am assure you that I will have nothing but positive things to say about your service, your buildings, and your work.
We just want to thank you for the professional manner in which you handled our purchase of one of your buildings. We are also well pleased with the quality of the building. It was delivered as scheduled with great care. We are looking forward to the building meeting our needs for many years.
I would like to take this opportunity to express to Affordable Portables how pleased I am in the overall performance of the staff and the company. This is my second purchase of sheds at Affordable Portables. My first purchase was in 1996 and was a 10×14 shed.
We just purchased and had delivered a 8×10 shed. From the showroom, to sales, to delivery, everyone conducted themselves in a professional manner and were very friendly and made the sales a comfortable process.
I would like to strongly thank Andrew, the delivery person, for his continuous act of professionalism. He was on time and did a great job of getting the shed set in the right spot and level. He was continuously monitoring his role in safety as he performed his job. Hats off to him.
Thanks Affordable Portables. Whenever someone mentions that they need a storage building — you will be strongly suggested as the place to go for their needs.